Heidi & the Encounter worship band will be leading us in some deep times of worship, we'll be taught some great Biblical truths by 

Dr. Robb Brewer,

 the Executive Pastor who oversees leadership training at Gateway Church and also Shannon Pickard (a.k.a. Shan the Man)

 Senior Pastor at Revive Church.  There will be times of personal

 ministry, getting into God's Word, prophetic words & fellowship with some really good people.
This year we will have a special luncheon on Sat. for everyone to be a part of, we will have different pastors that for a unique Q&A time. (The lunch meal will be included in your registration.)  
1st of 4 promo videos…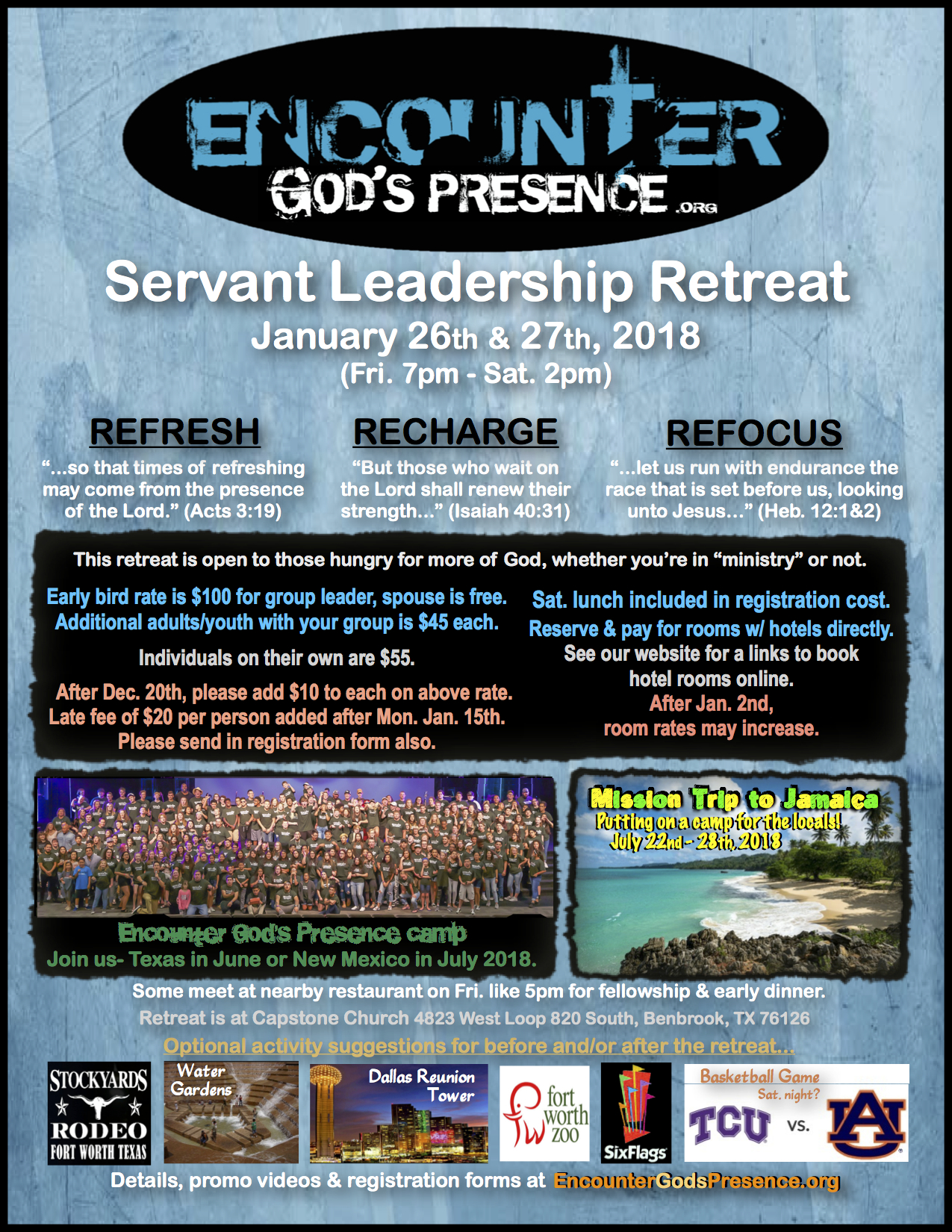 2nd of 4 promo videos (other 2 coming soon)…
Early bird – individuals $55
After Dec. 20th – add $10
After Jan. 15th $20 late fee
Group leader & spouse only $100
(Church groups of 5 or more)
Additional adults/youth with your group is $45 each.
After Dec. 20th – add $10 to prices above
After Jan. 15th $20 late fee
Retreat will be Capstone Church, if you need lodging book yourself a nearby hotel room.
Need to stay at a hotel? Here's two of the many nearby options…
Homewood Suites by Hilton Fort Worth West at Cityview
6350 Overton Ridge Blvd, Fort Worth, TX 76132
Staybridge Suites Fort Worth West
229 Clifford Center Dr, Fort Worth, TX 76108
The retreat is at Capstone Church 4823 West Loop 820 South, Benbrook, TX 76126
For GPS you can put- 4600 Veteran's Parkway, Benbrook, TX 76126 
2018 Leadership Retreat REGISTRATION FORM (Click here/coming soon)
Registration forms for retreat (unlike camp & mission trips) can just be scanned or taken a pic of and emailed.
Tentative schedule for retreat & hotel info. (click here/coming soon). 
Needing a hotel room? We'll have some nearby options soon.
Many who live locally are just commuting back and forth but if you need a room ask them if any there's any rooms still under "Encounter God's Presence".

 
**** PAYPAL click on arrows for options, pick one and than clcil on "Buy Now" button…
Encounter Retreat Payment options below…
***** Special pricing with EGP Helpers and One Day Only
Check out last year's overview video below.
,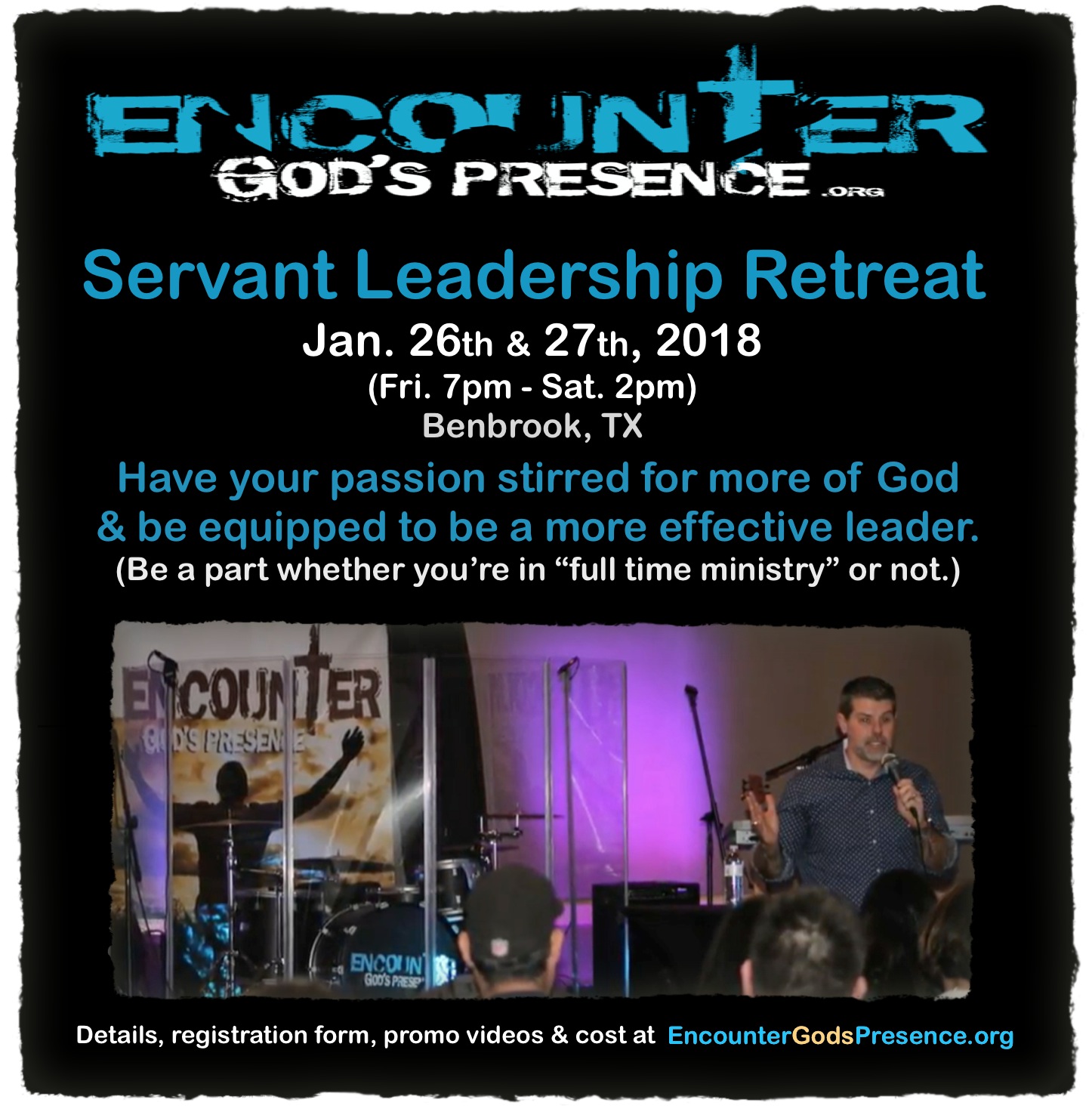 Buy footage from the 2017 Servant Leadership Retreat for only $12. The link will be emailed to you to have a variety of digital video footage. Clips will include the prophetic words from Paul & Yuri Huntington and Jeff & MK Chapman, sessions of Dr. Robb Brewer, Jason Williams & Shannon Pickard & times of worship with Heidi Williams & EGP worship band.
Click on the arrows below on the right side to choose cost options for the retreat.
PayPal and Facebook Messenger payment options coming soon.
Last year's promo videos…